FreeLLy Aviation Service Won the National High-Tech Enterprise Certification
Date:2019-04-30 10:55:34
Author:FreeLLy
On November 9, 2018, the State Administration of Taxation, the Shenzhen Municipal Finance Committee and the Shenzhen Science and Technology Innovation Committee formally approved FreeLLy (Shenzhen) Aviation Service Co., Ltd. (hereinafter referred to as FreeLLy) as a national high-tech enterprise. This is the recognition of the company's service in the general aviation industry for many years and is committed to improving the service capabilities and technology of China's general aviation industry. It is the pride of the FreeLLy.
Established in 2014, FreeLLy Aviation Service Co., Ltd. is the first Chinese aviation service enterprise obtained the overseas FBO operations qualification. It is a military and civilian integrated service platform designated by the Chinese Air Force for overseas missions. The company integrates FBO operations, ground support, fuel, navigation, maintenance, and aviation software development and others into one platform, and also provides customized VIP services such as hotel, yacht, and private jet. As of now, the company owned Youngsun(Shenzhen) Air Catering, Skyline(Hong Kong) Business, and Ejet(Cambodia).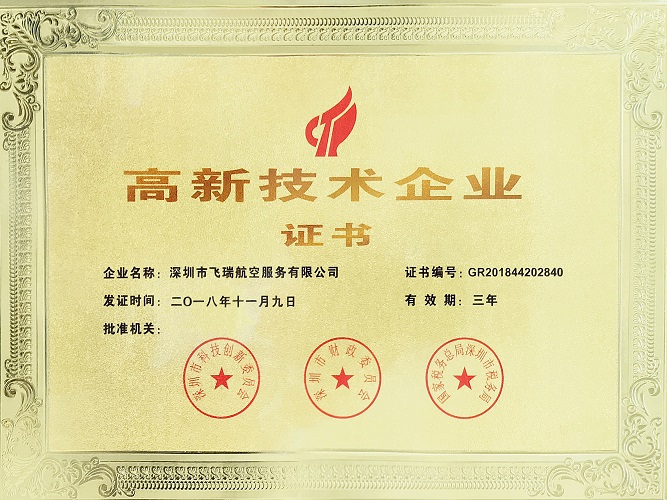 The company is based at Shenzhen Baoan International Airport with ground service representatives based at Sanya, Haikou, Wuxi, Chengdu, Xi'an, Urumqi, and other cities of China. The company owns and operates the FBOs at the Phnom Penh and Sihanoukville airports in the Kingdom of Cambodia. The main business of FreeLLy is ground handling service of business jets at Shenzhen Baoan International Airport. The company is appointed by nearly 20 domestic business airlines as a ground service agent. Also, the company is the contracted cooperative enterprise of Shenzhen Airport Zhuoyu Business Development Co., Ltd. The company has handled more than 1,500 flights as of this year, which ranked as the top domestic agent by its service quality and quantity.