First aid shows FreeLLy's consideration.
Date:2018-02-18 11:02:40
Author:FreeLLy
On February 18, 2018, the 4th day of Chinese New Year, FreeLLy received a flight ground handling request at Beihai Airport scheduled on 20th. In accordance with the company ground handling procedure, the on-duty personnel immediately contacted the airport and discussed the task request. At noon on the 19th, our ground support supervisor arrived at Beihai Airport, a day earlier before the flight, and confirmed procedures and all the services details with relevant departments of airport and clients.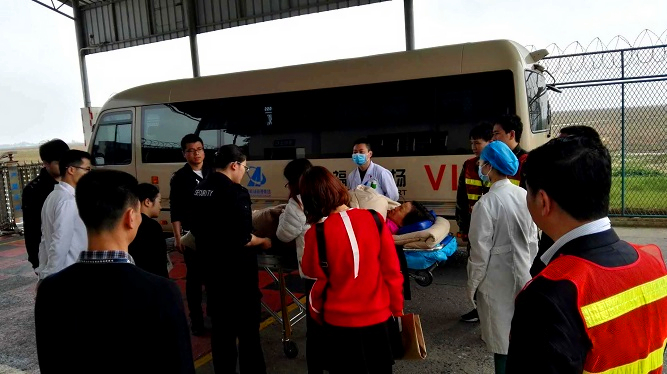 The injured customer is doing physical examination

At around 18:00 on the 19th, our ground supervisor suddenly received a call and was told that one of our clients could not stand upright due to accidental fall, and the injured guest will be delivered by an ambulance from Beihai People's Hospital tomorrow. Meanwhile, our ground supervisor immediately realized the critical importance of this task, and it only left us less than 14 hours for dedicated preparation. The details of passenger injuries, the status of airport emergency facilities and equipment, and airport-related security procedures were all unclear to us. Keep the fact that time is life, our ground supervisor carried the task with extra carefulness and thoughtfulness by briefing the case with airport leaders right away. After a detailed analysis of the situation, airport leaders conducted a team meeting and assigned the task to the relevant unit to ensure the smoothness and efficiency of each process, from passenger transformation to passenger security inspection, to in-field transportation until passenger board the aircraft.
On the departure day, the airport leader visited the front line and personally involved in the entire ground handling process. Due to the comprehensive protection plan planed by FreeLLy in the early stage, there was no delay and stuck in the flight schedule, and thereby earning the valuable time for patient's treatment. In the end, this flight support task earned the customers' trust and praise.